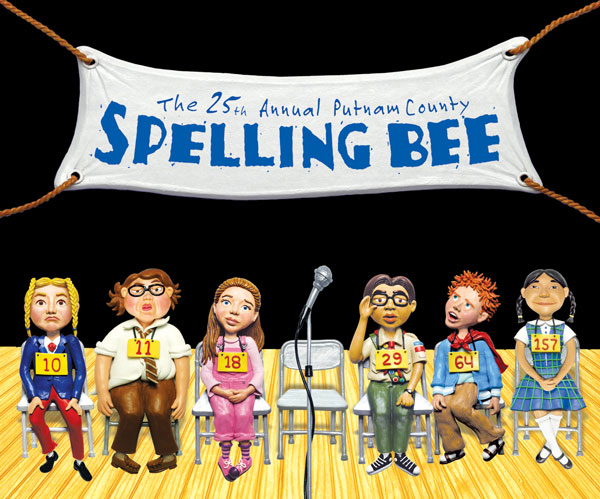 Music and Lyrics by William Finn
Book by Rachel Sheinkin
Conceived by Rebecca Feldman
Additional Material by Jay Reiss
Directed by Duane Draper
April 12-19, 2014
Brooklyn Community Center
102 N. Rutland Ave, Brooklyn, WI 53521
Staff
Producers - Pam Crary and David Lawver
Stage Managers - Sarah Schultz and John Unertl III
Publicity - Rich Bolton
Pianist - Gunnard Swanson
House Managers - Evan and Patty Fitzgerald
Photographer - Wade Crary
Six young people in the throes of puberty, overseen by grown-ups who barely
managed to escape childhood themselves, learn that winning isn't everything
and that losing doesn't necessarily make you a loser.
The show is a hilarious tale of overachievers' angst chronicling the
experience of six adolescent outsiders vying for the spelling championship
of a lifetime. The show's Tony Award winning creative team has created the
unlikeliest of hit musicals about the unlikeliest of heroes: a quirky yet
charming cast of outsiders for whom a spelling bee is the one place
where they can stand out and fit in at the same time.
Help wanted!
We need ushers and ticket staff for the show.

Please sign up for The 25th Annual Spelling Bee - here's how it works in 3 easy steps:

1. Click here to go to our invitation page on VolunteerSpot.

2. Enter your email address (You will NOT need to register an account on VolunteerSpot).

3. Sign up! Choose your spots - VolunteerSpot will send you an automated confirmation and reminders. Easy!

Note: VolunteerSpot does not share your email address with anyone. If you prefer not to use your email address, please email tickets@oshponline.org to have the house managers sign you up manually.
Cast list
Click here to see the list.

OSHP The 25th Annual Putnam County Spelling Bee Rehearsal and Production Schedule
In ongoing development; check back often!